At Skout, we're always more than happy to share our expertise with other companies, which is why we jumped at the chance to participate in the mentoring programme organised by Business France – a scheme which helps French tech start-ups move into the UK market.
About Business France and Impact Europe
Business France is a French government agency which helps foster growth for small and mid-size businesses. Not only do they support SMEs through finding commercial partners and securing investments but also, they are committed to developing the business image of France by making it an attractive investment location.
Impact Europe is a mentoring programme set up by Business France to enable French tech start-ups to break into other European markets. The UK branch recruits some of the best business leaders to offer their advice and expertise through personalised insights.
Our fabulous director, Claire Lamb, was selected to deliver a presentation to 15 companies on how to build an effective and successful B2B PR strategy within the UK and mentor three companies more closely on how to do this. And, because we are kind folk, we thought we'd share with you her opinion on…
How to create a successful B2B UK communications programme
Communications strategy:
As I'm sure many of our clients will tell you, B2B PR can achieve brand awareness, demand and leads, emotional engagement as well as give your business a presence across digital and social channels. In this respect, it is critical to ensure your business is creating objectives; this could vary from increasing turnover from a business perspective, increasing sales qualified leads from a marketing perspective, or achieving coverage in top publications from a communications perspective.
It's also important to look at the market landscape by conducting research into your audience, industry and other associated trends. For example, you could delve into buyer behaviour, or even look at what your competitors are doing; it needs to be more than just a PEST or SWOT analysis.
Once you have defined your objectives and started your research, you can then start creating your comms strategy around your challenges and objectives. What do we mean by this? The image below will explain.
Next, it's all about finding out about your audience; who are they and what makes them tick?
Storytelling:
Storytelling is all about finding narratives to tell the story of your business. This can help you reach your audience at the right time, define your company's vision and mission, create engagement with potential customers and connect emotionally with the buyer (B2B2C).
However, just like any book, you need to tell a good story to keep people interested otherwise it may be a struggle to keep people engaged.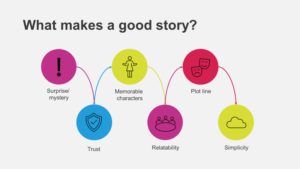 Storytelling should be used to tell an audience something unique about your company, which can then translate to usable content for your marketing plan and build the basis for your campaigns. Stories also should provide authority, advocacy and authenticity to your brand and map into the sales funnel.
Integrated campaigns
An integrated campaign is where content can be pushed out across multiple channels and promotes a consistent message to your audience. We have lots of resources available on our website about the benefits of integrating your marketing campaign, which you can access here.
We believe there are three ingredients needed for successful integration: storytelling assets, audience messages, and opinion on what's going on within your industry. This content can be distributed across social media feeds, the company's website, the media, and through direct communications. So, why is this better than a single channel strategy? Not only can it lead to increased brand awareness through press coverage and links, but it can also increase website visitors, boost engagement, generate leads, offer prospects, improve sales and much more!
The trick is to develop content that can be repurposed for every part of the sales funnel.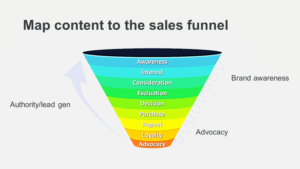 Analysis and measuring impact
To gain the most out of your B2B communications programme, we recommend analysing and measuring the impact of your content. This will help you understand what has been successful. Dividing measurement between digital, brand and demand will help determine the outcome of both content and press coverage. Here are some questions to ask when conducting your evaluation:
Digital: (Coverage) Does it contain high authority links? How much social engagement has been achieved? What is the referral rate performance? Does it have sign up potential?
Brand: (Coverage) Is it audience focused? Does the brand take prominence? Is the message consistent? How many views has it received?
Demand: (Content) Is it reusable across multiple channels? Is it integrated across media coverage? Can you use it to nurture deals? Does it drive marketing leads?
And, finally…here are the do's and don'ts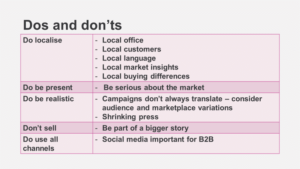 Whether you're an international or domestic business, we can help you build a brilliant B2B communications strategy. Get in touch: info@skoutpr.com