The 10th of October is World Mental Health Day – a day recognised by the World Health Organisation to raise awareness of mental health issues and encourage actions to care for our mental well-being. Participating in transparent discourse around mental health is fundamental to this and, as a business, we recognise our responsibility to engage in these conversations to ensure we are equipped with resources to support our employees and clients. In celebration of World Mental Health Day, we sat down with our diversity and inclusion officer, account executive Becky McArdle. We asked Becky what can businesses do to improve their mental health policies, what mental health means to diversity and inclusion, and how Skout is working to constantly better and evolve our Diversity and Inclusion (D&I) programmes.
Businesses around the world are responding to global protests for racial justice, LGBTQIA+ rights, gender equity and calls for the end of ablism with the implementation of diversity and inclusion policies. Employers are recognising that their workforce has a diverse array of needs. How important is it for employers to consider D&I when it comes to mental health policy?
In order for a D&I programme to be sustainable, it needs to be integrated into every level of the business – individual, team, organisation, and marketplace. It therefore must form part of a business's mental health policy. The events mentioned in the question continue to culminate in a growing socio-political climate where people are becoming increasingly aware that individual differences and subsequent disadvantages have the power to impact negatively on mental health. It is no longer an option for business leaders to turn a blind eye to issues surrounding dimensions of difference. Mental health support is not a one-size-fits-all solution. Our experiences as individuals in terms of our gender, age, sexual orientation, ableness, race, culture, class, ethnicity, and gender identity, fundamentally shape our mental wellbeing. For this reason, it is imperative that business leaders consider the whole experience of disadvantage and how that effects the mental wellbeing of their staff, as well as ensuring they understand the unique nuances of disadvantage linked to each dimension of difference.
Diversity is about celebrating and respecting the things that make us us, be it gender, age, sexual orientation, ethnicity, or race. Inclusion is a conscious effort to ensure people are welcomed, accepted, and given opportunities regardless of their background, culture, or abilities. How important is the inclusion of mental health to D&I? Do you feel it is overlooked?
The purpose of a D&I programme is to be inclusive to everyone and this involves everyone's mental health. At the same time, it's a recursive situation as businesses should also be looking at increased access and support for potential employees who have mental health issues. D&I programmes should support and empower all employees, creating a workplace that accommodates and values people as individuals.
This can be achieved in a variety of ways. This includes more enlightened recruitment, encouraging a healthy work/life balance, creating a more accessible workplace, introducing working from home and flexible working, sensory assistance, mentoring programs, drop-in sessions, and staff training to provide a level of understanding about dimensions of difference.
While I don't think that mental health is overlooked, I think it is often viewed through a narrower lens than it should be. The first step to rectifying this is to acknowledge that we all have mental health – helping us to understand that inclusive mental health policies and processes benefit us all. Common mental health issues include stress, anxiety, loneliness, and depression but it's important that discourse around mental health does not simply end there. Employers should be aware of a broader range of mental illnesses that could impact their workforce. You can find a useful resource for this, here.
D&I policies have been said to have both ethical and business strategy benefits such as opening a company up to new perspectives and opportunities. How can mental health policies have positive impacts on a business?
As well as a moral case, there is a sound business case for prioritising inclusive mental health policies. It can shape a business's reputation – positioning it to be forward-thinking and ambitious, with a high sense of corporate responsibility and a positive attitude to the wider community. It can also open new markets by diversifying customer contracts as accreditations linked to mental health are starting to become a prerequisite in many business negotiations. Finally, and I think most importantly, having a sustainable and inclusive mental health policy will lead to increased productivity among staff. According to figures published by the Mental Health Foundation, 70 million work days are lost each year due to mental health problems in the UK, costing employers approximately £2.4 billion per year. A comprehensive mental health policy will help to mitigate these numbers. This ultimately puts money and resources back into the business and drives profit.
How can businesses implement preventative and well-being care for employee mental health?
There are many initiatives businesses can adopt to encourage mental wellbeing. When designing a mental health policy it is vital to remember three key aspects:
Purpose – ensuring staff understand that they have a role within the company and that their role is valued. At its broadest level, this is about feeling like we have something to get up for in the morning and that's something that employment plays a pivotal role in for most people, as we spend such a high percentage of our time at work.
Significance – showing staff that they are valued and appreciated. Staff need to understand that they make up a fundamental part of the team and that if they were not around, their presence would be missed. Feeling replaceable can have a detrimental impact on a person's mental health. Staff need to know that their unique attributes and skill sets are significant to the day-to-day running of the business.
Potency – this is all about showing staff that they can make a meaningful difference to the business. It's about communicating that the business doesn't just 'happen' regardless of the workforce as individuals and that each person has the power to implement positive change.
Since taking on the role of diversity and inclusion officer at Skout, what activities and programmes have you played a role in supporting the company's commitment to D&I?  
I feel like I'm just getting started! Right now, I'm working with the team to build on Skout's existing D&I foundations. This includes holding monthly sessions that allow us to talk openly about things that make us unique, issues that are happening across the globe and what an inclusive workplace means to us. Our latest workshop was about establishing a working statement that set out what inclusion means to us as individuals and as a team, allowing us to create a commitment to ourselves, each other and Skout on how we will work to achieve that goal.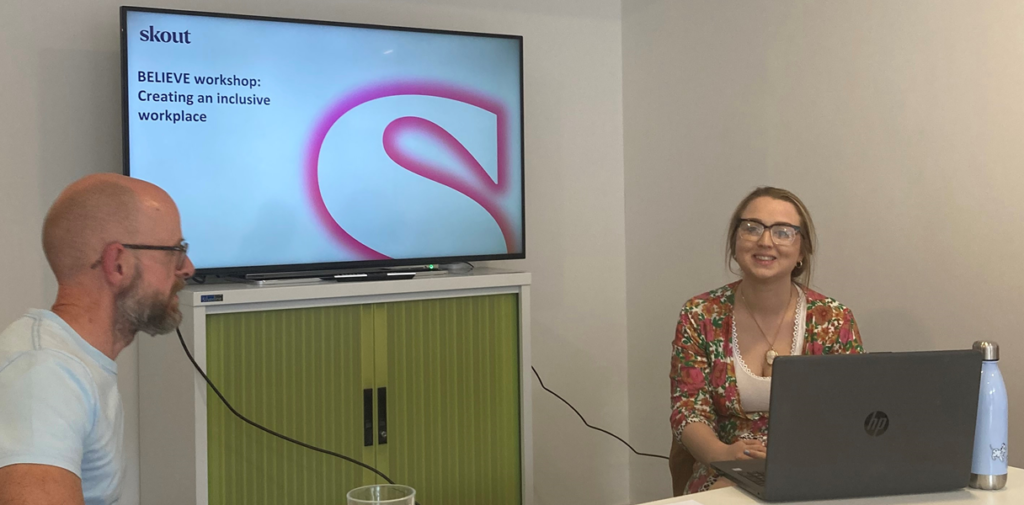 The pandemic had a huge impact on people's mental health. How did Skout support employees during this time?
I feel like Skout really recognised its duty of care as an employer to all of us during the pandemic. Our move to a work-from-home setting was done swiftly to protect our physical health. Teamwork was still encouraged through twice-weekly office calls. Optimism and engagement were incentivised across the team by encouraging us to use our reward system that works on the basis of nominations. We were even given financial funding for apps that help our mental wellbeing. We were encouraged to take regular breaks, exercise and be flexible with our time when needed. Most importantly, we were told time and again how much we were valued, backed up with rewards and out of work activities.
Going forward, how is Skout working to strengthen its D&I efforts?
Skout has always been a business that has considered the mental well-being of its employees. I think appointing a D&I officer has just helped to formulise this. However, the work towards an inclusive workplace is circular and something we will continue to work on. We will be taking employee feedback from our monthly workshops to form new initiatives that will help to create a happier team – it's all about listening to the wider team and making sure everyone's voice is heard.
How important is it to have awareness days like World Mental Health Day?
Days like Work Mental Health Day are great to use as a vehicle for the conversation – there are always events and resources brought out at this time of year that can be extremely valuable to employers and even individuals who are struggling with their own mental wellbeing. The day gives people the platform to speak out about their own experiences which can help to shape the discourse around mental health. However, it's important that the work we do goes beyond just the day. That work includes both actions made by business leaders to optimise a happy workplace and the work that we do on ourselves to prioritise our own mental wellbeing.